Warren Adler Author Bio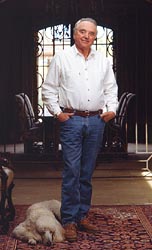 World-renowned author Warren Adler is best known for The War of the Roses, his masterpiece fictionalization of a macabre divorce turned into the dark comedy box office hit starring Michael Douglas, Kathleen Turner and Danny DeVito. Adler quickly became the fountainhead of Hollywood screenplay adaptations, fueling an unprecedented bidding war in a Hollywood commission for his unpublished book Private Lies. The New York Post reported, "TriStar Pictures outbid Warner Bros and Columbia, and purchased the film rights to Private Lies for $1.2 million. …the highest sums yet paid in Hollywood for an unpublished manuscript."
While The War of the Roses garnered outstanding box office and critical success with Golden Globe, BAFTA and multiple award nominations internationally, Adler went on to sell movie and film rights for 12 books, all noted for his character driven and masterful storytelling. Starring Harrison Ford and Kristin Scott Thomas, The New York Times described Random Hearts as having "stylistic polish and keenness of observation not often found in American films anymore" and the Washington Post said it had, "A stunning shocker of an opener."
Produced by Linda Lavin for PBS' American Playhouse series, Adler's The Sunset Gang was adapted into a trilogy starring Uta Hagen, Harold Gould, Dori Brenner, Jerry Stiller and Ron Rifkin garnering Doris Roberts an Emmy nomination for 'Best Supporting Actress in a Mini-Series'. Los Angeles Times called it "dramatically daring," The Wall Street Journal said, "Those… stories… are in fact, pure drama – moving, comical, and most of all, sharply observed." The musical version of The Sunset Gang received an Off-Broadway production with music scored by noted composer L. Russell Brown. The Broadway rights to the musical version of The War or the Roses were sold this spring and the dramatic version continues to be produced internationally, reaching a global audience in Italy, Germany, Denmark, Hungary, Prague, Argentina, Chile, Brazil, Mexico, Uruguay, and elsewhere.
A New York Times 'Notable Book of the Year', Adler's American Quartet, featuring his crime fighting female protagonist Fiona Fitzgerald, has been optioned by NBC and Lifetime. Adler's New York Echoes has also been released as an audio book with Emmy Award winning actress Cynthia Nixon narrating this collection of short stories. Adler's own Select television appearances include The Today Show, Good Morning America, and Geraldo Rivera. 
An essayist, short-story writer, poet and playwright, Adler's works have been translated into 25 languages and have received stellar reviews by all major publications including: The New York Times, Los Angeles Times, USA Today, The Wall Street Journal,Cosmopolitan, Newsweek, Variety, Publishers Weekly, Glamour, New York Daily News, Time, Washington Post, Rolling Stone, Gannett News Service, Chicago Tribune, The London Telegraph, and The Hollywood Reporter. Adler himself, regularly blogs for The Huffington Post, and lectures on creative writing, motion picture adaptation, and the future of e-books. Adler has taught novel writing honors seminars at NYU, and is the sponsor of the Warren Adler Visiting Writer series at NYU's Creative Writing Program. Since 2005, Adler has sponsored the 'Warren Adler Short Story Contest' awarding cash prizes to winning submissions from the world over.
A pioneer in electronic publishing, Adler introduced the first digital reader manufactured by SONY in 2007. After being published by such houses as Viking, Putnam and Warner Books, he re-acquired his complete backlist and converted his entire library to digital publishing formats, published now under his own company, Stonehouse Press. In 2011, he released five new e-books in an exclusive with Amazon.com. He is a member of the Authors Guild, PEN, the Century Association, and the Lotos Club.
Adler's themes deal primarily with intimate human relationships—the mysterious nature of love and attraction, the fragile relationships between husbands and wives and parents and children, the corrupting power of money, the aging process, and how families cling together when challenged by the outside world. Readers and reviewers have cited his books for their insight and wisdom in presenting and deciphering the complexities of contemporary life. With the 2012 launch of The Serpent's Bite, Adler unleashes the character of Courtney Temple, one of the most evil women in fiction alongside the likes of Lady Macbeth, and continues to establish himself as a "master fictioneer".
A product of the New York public school system, Mr. Adler graduated from Brooklyn Technical High School and New York University, where he majored in English literature. Inspired by his freshman English Professor Don Wolfe, Adler went on to study creative writing with Dr. Wolfe when he taught at the New School. Here he also studied under Dr. Charles Glicksberg. Among his classmates were Mario Puzo, William Styron and many other talented writers. In 2009, Adler was the recipient of the "Alumni of the Year" honor at NYU's College of Arts and Science.
"I wanted to be a novelist since I was fifteen years old…. Throughout my early career, I would write from five to ten in the morning every day before going to my office, a habit that has stayed with me since." ~ Warren Adler
After graduating from New York University with a degree in English literature, Mr. Adler worked for the New York Daily News before becoming Editor of the Queens Post, a prize winning weekly newspaper on Long Island. His column Pepper on the Side became a staple of a number of newspapers in the country.
During the Korean War, Adler was recruited by Armed Forces Press Service to serve in the Pentagon as the only Washington Correspondent for the service. His Washington by-line went all over the world and was published in every publication put out by the Army, Navy, Marine Corps, Air Force and Coast Guard.
Prior to his success as a novelist, Mr. Adler had a distinguished business career. He has owned four radio stations and a TV station, has run his own advertising and public relations agency in Washington, D.C. and was one of the founders with his wife Sonia and son David of the Washington Dossier magazine. Adler is the founder of the Jackson Hole Writer's Conference and has been Chairman of the Board of Trustees of the Jackson Hole Public Library. He is married to Sonia Adler nee Kline, a former magazine editor, and lives in New York City.
Contacting Warren Adler: