Available
Rights
Warren Adler's works have been translated into more than 25 languages and have received stellar reviews by all major publications including: New York Times, Los Angeles Times, USA Today, Wall Street Journal, Cosmopolitan, Newsweek, Variety, and Publishers Weekly among others. While The War of the Roses garnered outstanding box office and critical success and multiple award nominations internationally, Adler has gone on to sell film and television rights for more than a dozen of his books, all noted for his character-driven and masterful storytelling. The stage adaptation of The War of the Roses continues to be produced in translation internationally, reaching a global audience in Italy, Germany, Denmark, Hungary, Prague, Argentina, Chile, Brazil, Mexico, Uruguay and, most recently, Belgium. With Adler's authorial name growing in popularity around the world the potential for international sales growth is strong. You can keep abreast with Adler's current film/TV developments at Grey Eagle Films.
If you are a foreign rights agent interested in representing select bestselling Warren Adler titles or a publisher interested in purchasing the rights to particular title(s) this is the page for you. All interested editors and agents are welcome to browse and inquire about available rights to any number of the select Warren Adler titles included in the list below.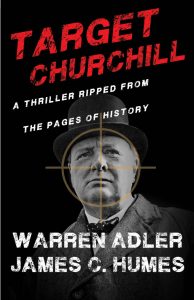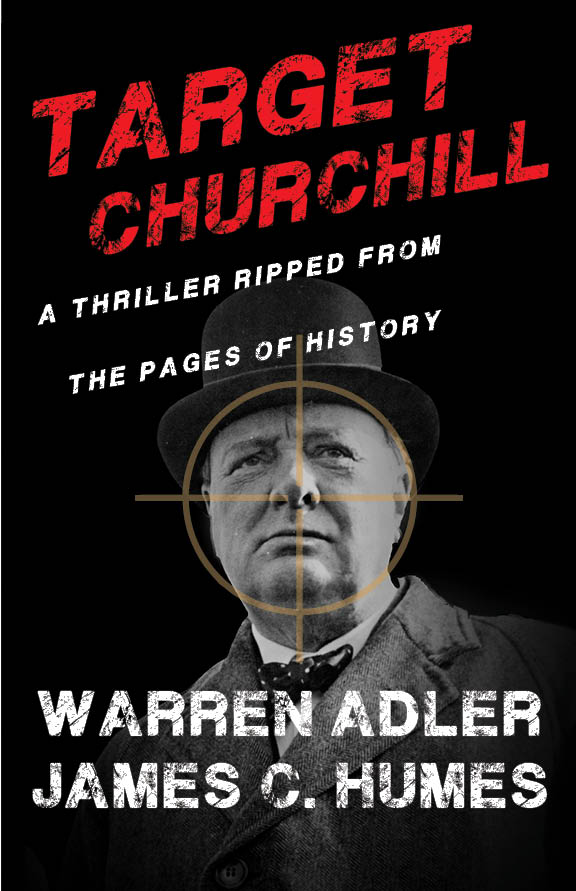 Target Churchill
318 pages
A thriller torn from the pages of history.
As Great Britain and the United States celebrate a victorious end to WWII, Joseph Stalin's relentless Soviet Union is spreading across Eastern Europe leaving a trail of devastation and murder in its wake. Winston Churchill, the cigar-puffing icon of the British fighting spirit embarks on a crusade to lift the veil of secrecy that hangs over Stalin's Soviet Union. Westminster College in Fulton, Missouri sets the diplomatic stage upon which the world's political players grapple for supremacy as Churchill delivers his fated Iron Curtain speech on March 5th 1946.
Soviet operatives have infiltrated British and American governments at the highest level. As Churchill prepares to deliver his Iron Curtain speech that will launch the Cold War, Stalin unleashes his trained mole, an American Nazi who served in Hitler's SS. His mission: Assassinate Winston Churchill.
Churchill travels with a lone bodyguard, W.H. Thompson, a former British police officer who protected Churchill faithfully through the turbulent years of war. Thompson alone senses danger, but will his trained instincts and vigilance be enough to protect the former Prime Minister from a ruthless killer? In this gripping historical thriller, battles are fought not on the beaches, on the landing grounds, in the fields, on the streets or in the hills, but behind closed doors in the shadows of espionage.
Critical Acclaim
"Target Churchill is a fast moving cloak and dagger story that will reward Churchill fans and fans of fiction like Frederick Forsythe's seminal novel of intrigue Day of the Jackal..." -- The Fulton Sun
Rights
Rights Available: 
Paperback
eBook
Rights Sold:
US eBook Rights: Rosetta Books
US/Canada Audio: Audible Studios
Translation(s) Available:
N/A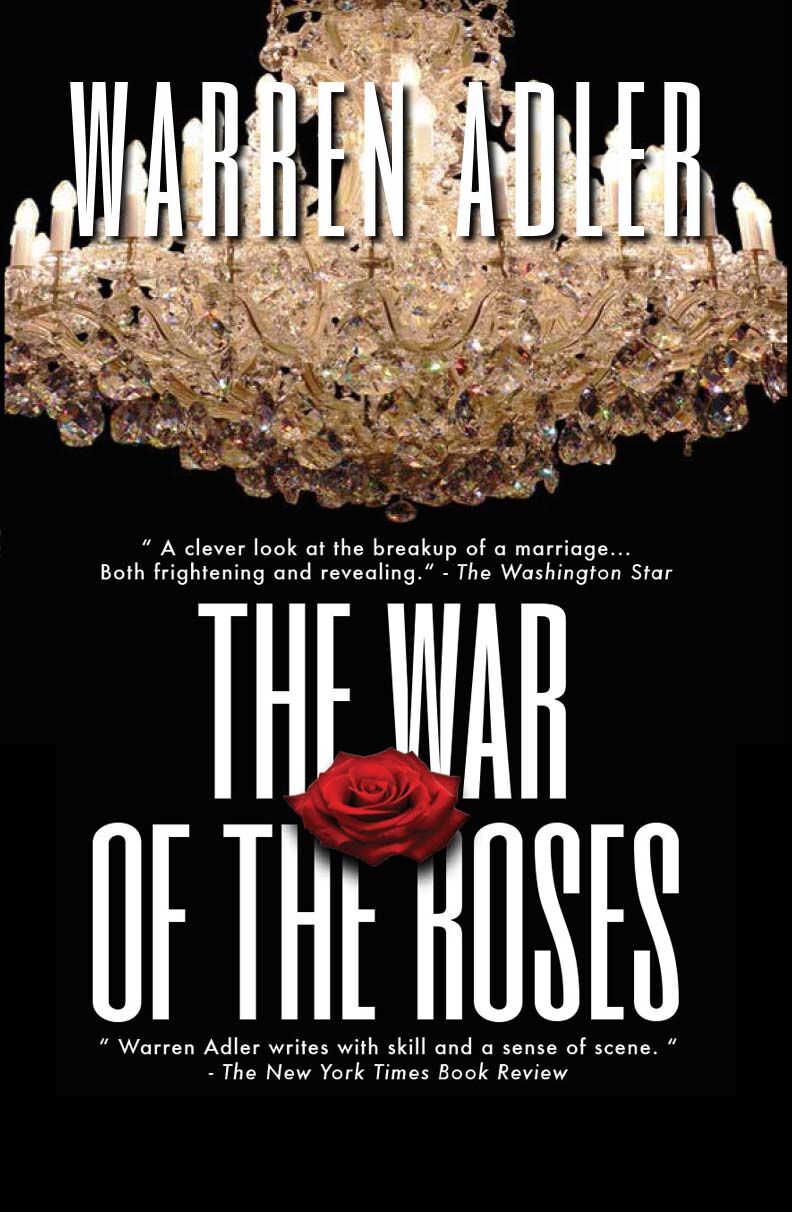 The War of the Roses
256 pages
"The War of the Roses is a clever look at the breakup of a marriage…Both frightening and revealing." – Washington Star
The War of the Roses has emerged over time as a synonym for modern divorce and its emotional aftershock. Since its publication, it has spawned numerous film and stage adaptations, endless discourse on the dynamics of divorce as well as becoming part of the legal jargon describing the proceedings that follow.
Adler's iconic tale takes us from suburban bliss to a deadly territorial battle. Jonathan and Barbara Rose are, at first glance, the perfect couple. Jonathan has a stable law career; Barbara is an aspiring gourmet entrepreneur with a promising pâté recipe. Their large home holds the rich antique collection that originally brought them together, as well as the loving familial bond that intertwines them with their children Eve and Josh. When Jonathan finds himself suddenly gripped by what is presumably a heart attack and Barbara confronts the loveless spell lingering between them, the sun-soaked sky that was once the Rose family union drifts into a torrential downpour. Their mutual hatred becomes ammunition in a domestic warfare that escalates in the most unpredictable ways while they helplessly eye their dwindling nuptial flame. In the chaos that unfolds Adler allows a moment of much needed contemplation on the shape of today's matrimonial bonds.
The War of the Roses illuminates the relationship-shattering materialism, contempt and selfishness of husband and wife by posing a timeless question: how far are we willing to allow our material possessions the power to define who we are? Are today's marriages haunted by the struggle to get even?
Critical Acclaim
"The divorcing Roses go to battle over their beautiful home and the objects in it - and take revenge to stunning heights. You may have seen the fantastic 1989 film with Kathleen Turner and Michael Douglas, but the book is even more terrifying, black-humored, black-hearted and bristling, because you're trapped inside the self-justifying, increasingly mad minds of Oliver and Barbara Rose." -- Gillian Flynn, Author of Gone Girl
"The War of the Roses is a clever look at the breakup of a marriage...It is Adler's achievement that he makes the most bizarre actions of each (party) seem logical under the circumstances...Both frightening and revealing."  -- The Washington Star
"Warren Adler writes with skill and a sense of scene." -- The New York Times Book Review
"A very, very funny novel." -- New York Daily News
"This book is a dazzler, the wildest, most outrageous, most macabre comedic book we've read in years." -- Richard Zanuck and David Brown
Rights
Rights Available:
Paperback
eBook
Rights Sold: 
US eBook Rights: Rosetta Books
US/Canada Audio: Audible Studios
Translation(s) Available:
Dutch
Finnish
French
Italian
Japanese
Polish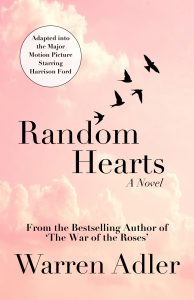 Random Hearts
272 pages
The classic romance novel that inspired the Hollywood film starring Harrison Ford and Kristin Scott Thomas, written by the acclaimed novelist Warren Adler, well-known for his iconic novel turned international box-office hit 'The War of the Roses.'
In an ideal world, they never would have met.
Vivien Simpson is a happy stay-at-home mom with a young son who adores her successful husband.
Edward Davis is an ambitious aide to an important Congressman who loves his wife.
When a plane crash brings about the discovery that their supposedly loving and now deceased spouses were entangled in a deeply passionate love affair, they are devastated and baffled by the revelation.
Determined to pick up the pieces of their shattered lives, they embark on a hunt for the truth behind their spouses' infidelity, guided only by the two mysterious identical keys they left behind.
Along the way what they discover about themselves and the mysterious nature of love will render readers breathless.
Another classic love story from Warren Adler that has achieved a worldwide audience.
Rights
Rights Available: 
Paperback
eBook
Rights Sold:
US eBook Rights: Rosetta Books
Danish eBook Rights: Lindhardt og Ringhof Forlag A/S
US/Canada Audio: Audible Studios
Translation(s) Available:
Chinese
Danish
Finnish
German
Greek
Hebrew
Slovak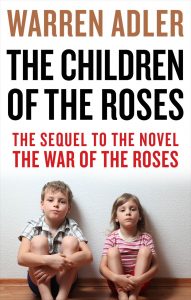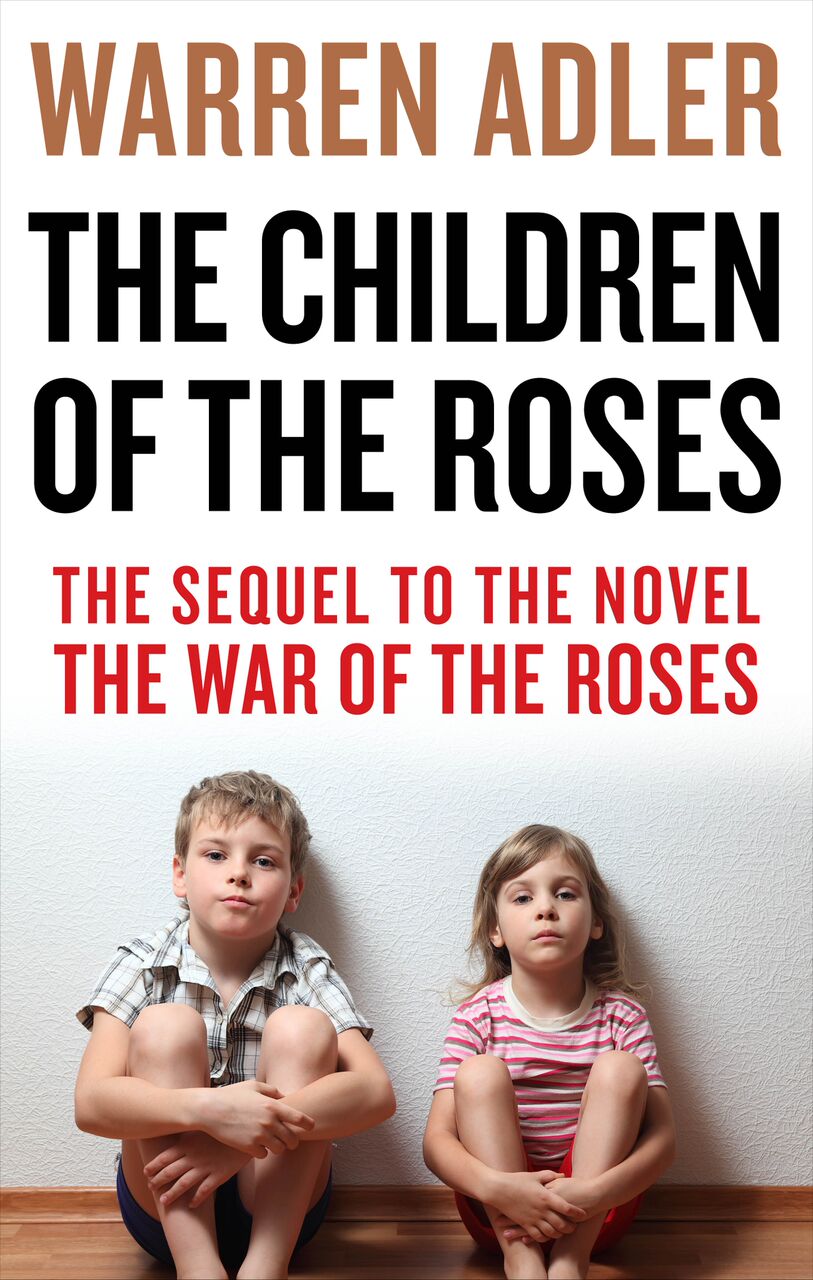 The Children of the Roses
312 pages
What ever happened to the children of Mr. and Mrs. Rose? Warren Adler's 'The War of The Roses' leaped onto the public consciousness and has since remained an essential thread in a wider tapestry of divorce iconography. Now, Adler presents us with the chandelier-shattering legacy of Barbara and Jonathan Rose relived in their children Josh and Evie. This darkly hilarious sequel to 'The War of the Roses' will draw you into a world of domestic mayhem that carries the confrontation between the Roses into the second and third generation.
The hilarious sequel to the original iconic tale about the perils of marriage, divorce and the destructive power of materialism.
Unlike the legendary Roses, Josh's marriage to Victoria should have all the qualities of an everlasting union. But when an innocent caper involving missing Milky Ways catapults out of control at their son's elite private school, the pair find themselves entering into a shattering warfare of a different kind. Armed with the emotional mayhem inherited from their parents, as well as compounded pressures involving a depraved headmaster, clandestine affairs and Victoria's male-hating mother, 'The Children of the Roses' presents a gripping story of the lengths to which parents will go to protect their children.
Little more than a child herself, Josh's ever sympathetic and over-stuffed sister Evie lavishes her 'food-is-love' obsession on her beloved niece and nephew coping with their own sense of loss. Meanwhile, Michael and Emily, soon-to-be children of divorce, orchestrate their own plan to keep their family together at all costs. Adler, once again, demonstrates his storytelling mastery by revealing the intricate blending of the past with the present, and how time unravels all things seemingly perfect to be darkly and even comically dysfunctional.
Critical Acclaim
"A funny new spin on dysfunctional family life - engrossing, unpredictable and touching." -- Sidney Sheldon, bestselling author
"Adler recreates the epic marital bickering that made the original 'The War of the Roses' such juicy movie material." -- Publishers Weekly
"Strangely compelling." -- Kirkus Reviews
"Warren Adler has delivered a racy fast-paced read. This sequel to that highly acclaimed bestseller is full of drama, suspense, tension and at times great hilarity. This is one of those books that's hard to put down until the last page is read. Clever plotting and terrific dialogue make it a page turner." -- Barbara Taylor Bradford, bestselling author
"In War of the Roses (1986), Adler set the ultimate standard for dysfunctional families. Now in his long-awaited sequel, the sins of the father are visited upon the next generation of Rose offspring...Adultery, blackmail, rape, and arson all factor into the downfall of the next crop of Roses, yet Adler's gift is to turn these outrageously bleak scenarios into outrageously appealing black comedy." -- Booklist
Rights
Rights Available:
Paperback
eBook
Rights Sold:
US eBook Rights: Rosetta Books
US/Canada Audio: Audible Studios
Translation(s) Available:
French
Slovak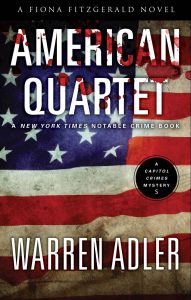 American Quartet
319 pages
FIONA FITZGERALD MYSTERY SERIES BOOK # 1 
A New York Times 'Notable Crime' Book
Detective Fiona Fitzgerald is an unlikely force for justice in Washington D.C's predominantly male police force. As a prominent senator's daughter and top investigator in the homicide division of the Metropolitan Police Department, Fiona maneuvers between two vastly different worlds, moving quickly from opulent State galas to gritty crime scenes. Born into the elite social circles of the nation's capital, and with privileged access to what lurks behind the pristine façade of the political establishment, Fiona is determined to expose the chicanery buried under prim rose bushes and concealed within the highest echelons of the American political aristocracy.
When a string of inexplicable murders rocks the hallowed streets of central D.C., Detective Fitzgerald finds herself charging through the shadows of a mysterious conspiracy. Fiona's reputation and career blunder, however, through an investigation with no leads. At the brink of her professional demise, an encounter with the eccentric yet charismatic Thaddeus Remington III at his museum-like mansion sends Fiona fluttering through a whirlwind of clues and revelations. Where once the desperate detective rummaged through traceless footsteps of a triple murderer, the key to solving her case is now whispered to her from the bloodstained graves of fallen presidents. Fiona stands ready with her unlikely yet determined partner Jefferson at her side. Her finger firmly on the trigger as an assassination plot, decades in the making, is about to change history.
Learn about the other books in the series here.
Critical Acclaim
"High-class suspense." -- The New York Times on American Quartet
"Adler's a dandy plot-weaver, a real tale-teller." -- Los Angeles Times on American Sextet
"Adler's depiction of Washington - its geography, social whirl, political intrigue - rings true." -- Booklist on Senator Love
"A wildly kaleidoscopic look at the scandals and political life of Washington D.C." -- Los Angeles Times on Death of A Washington Madame
"Both the public and the private story in Adler's second book about intrepid sergeant Fitzgerald make good reading, capturing the political scene and the passionate duplicity of those who would wield power." -- Publishers Weekly on Immaculate Deception
Rights
Rights Available: 
Paperback
eBook
Rights Sold: 
US eBook Rights: Rosetta Books
US/Canada Audio: Audible Studios
Translation(s) Available:
German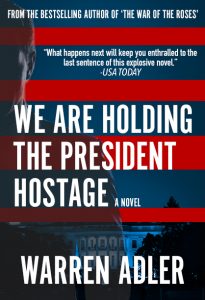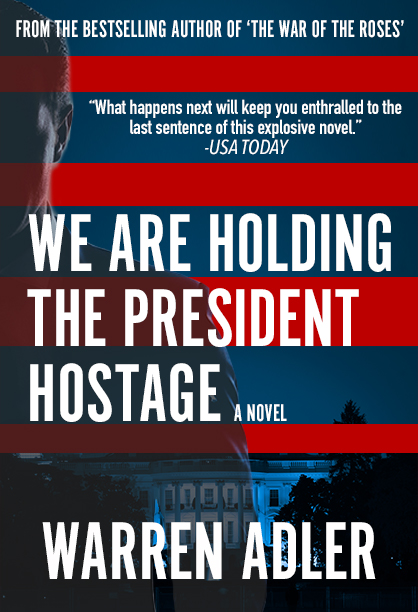 We Are Holding the President Hostage
267 pages
A Mafia Don swings into action when terrorists capture his daughter and grandson.
Aging Mafia Don Salvatore Padronelli, a.k.a. the Padre, is furious when fanatical terrorists capture his beloved daughter and grandson on a trip to Egypt. Fed up with diplomatic caution that prolongs their captivity, the Padre and his loyal henchman cleverly insinuate themselves into the White House and hold the President and his wife hostage. Now the Padre calls the shots on getting the President to take steps to release his family. This classic confrontation between two men on utterly opposite sides of the law is laced with humor and illustrates how fierce paternal love can motivate even the most ruthless of gangsters into reckless acts of courage and bravery.
Critical Acclaim
Nearly two dozen Americans are already being held hostage in the Middle East when a young American woman and her son are abducted by a professional terrorist in a botched political kidnapping outside the Egyptian Museum in Cairo. President Paul Bernard's attempts to effect the release of the hostages have so far been thwarted when four men disguised as waiters snatch him and his wife from a state dinner in the White House and hold them hostage in the President's quarters. The leader of the kidnappers is the head of the most powerful Mafia family in the U.S., and the new American woman hostage is his only daughter. The President will not be released until the woman and her child are safely recovered. The President brings in the ruthless, ambitious head of the CIA who pools resources with the Mafia don in a worldwide campaign to force the hand of the terrorist. Adler delivers a gripping modern-day thriller about the ages-old dilemmas of vengeance and responsibility. -- Publishers Weekly
When an aborted Middle East kidnapping attempt on the U.S. Assistant Secretary of State results in the abduction of an innocent American mother and child, an amazing scenario unfolds. Maria and Joey Michaels are the only daughter and grandson of American mafioso Salvatore Padronelli, who will stop at nothing to free his family. With U.S. President Paul Bernard pledged not to deal with terrorists, Padronelli resorts to holding the President and First Lady hostage in return for his loved ones. The irregular collaboration between the CIA and the Mafia becomes a race against time as the Americans employ unconventional and ruthless measures to end international terrorism. A fast-paced, entertaining, and well-written novel recommended for most public libraries. -- Library Journal
Rights
Available Rights:
Paperback
eBook
Rights Sold:
US eBook Rights: Rosetta Books
US/Canada Audio: Audible Studios
Translation(s) Available:
German
Norwegian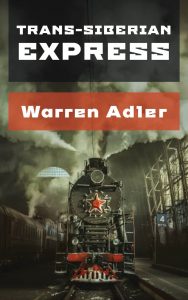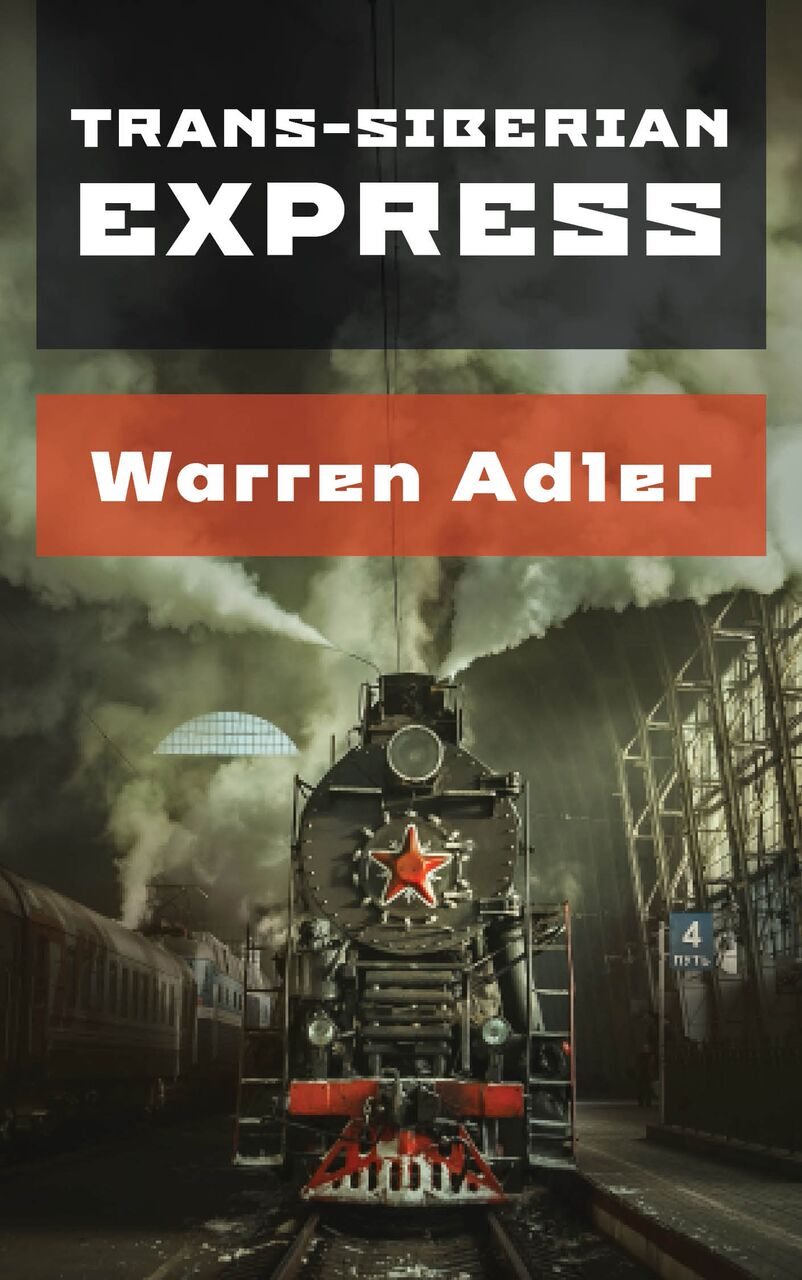 Trans-Siberian Express
354 pages
"Not since Agatha Christie sent her characters hurtling along the rails toward Murder on the Orient Express has a fictional train ride been as exciting as Warren Adler's TRANS-SIBERIAN EXPRESS." – King Features Syndicate
American cancer specialist, Dr. Alex Cousins is on a covert mission to the USSR. He is tasked with prolonging the life of Soviet Politburo Chief, Viktor Moiseyevich Dimitrov, who is suffering from advance stage leukemia. But the tenuous confidence between the unlikely cohorts is shattered one night as Alex accidentally discovers Dimitrov's diabolical plans of a nuclear strike on China. Alex soon finds himself dispatched, homeward bound on a 6000 mile journey aboard the Trans-Siberian Express; long enough, Alex realizes, to silence him from alerting the U.S. of the imminent destruction.
Reluctant, at first, to embark upon the journey, Alex is beckoned into the Siberian expanse by the haunting memories of his grandfather, Aleksandr Kuznetzov, who wove tales of magic and mystery breathing an ethereal life into this seemingly desolate place. As the train lumbers east across snow-cloaked mountains, glimmering past the forest glow, a watchful eye rests on the American doctor. Surrounding him are people beaten and broken by life, each drawn to this emperor of trains in search of a brighter future. Most curious is Anna Petrovna Valentinova, the gorgeous history professor, and Alex's alluring traveling companion. As Anna enchants Alex with the love for her homeland, a passionate romance, transcending political implications, unfolds under KGB surveillance.
A train attendant yearns for love, a deformed man seeks revenge on an old enemy, and a persecuted Jewish couple runs to a new home as the Trans-Siberian Express roars onward through a cavern of hopes and memories, coloring its tracks with tales of love, loss and nuclear intrigue, from one end of Russia to the other. An epic journey across a land and a people Winston Churchill declared, "a riddle wrapped in a mystery inside an enigma."
Critical Acclaim
"Engrossing, gripping, absorbing... written by a superb storyteller. (Adler's pen uses brisk, descriptive strokes that are enviable and masterful.)" -- West Coast Review of Books
"Warren Adler qualifies as a successor to Agatha Christie." -- Indianapolis News
"...Adler shows a great facility for recreating the Siberian landscape and making us believe it." -- Denver Post
Rights
Rights Available: 
Paperback
eBook
Rights Sold 
US eBook Rights: Rosetta Books
US/Canada Audio: Audible Studios
Translation(s) Available:
Dutch
German
Japanese
Swedish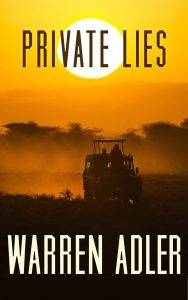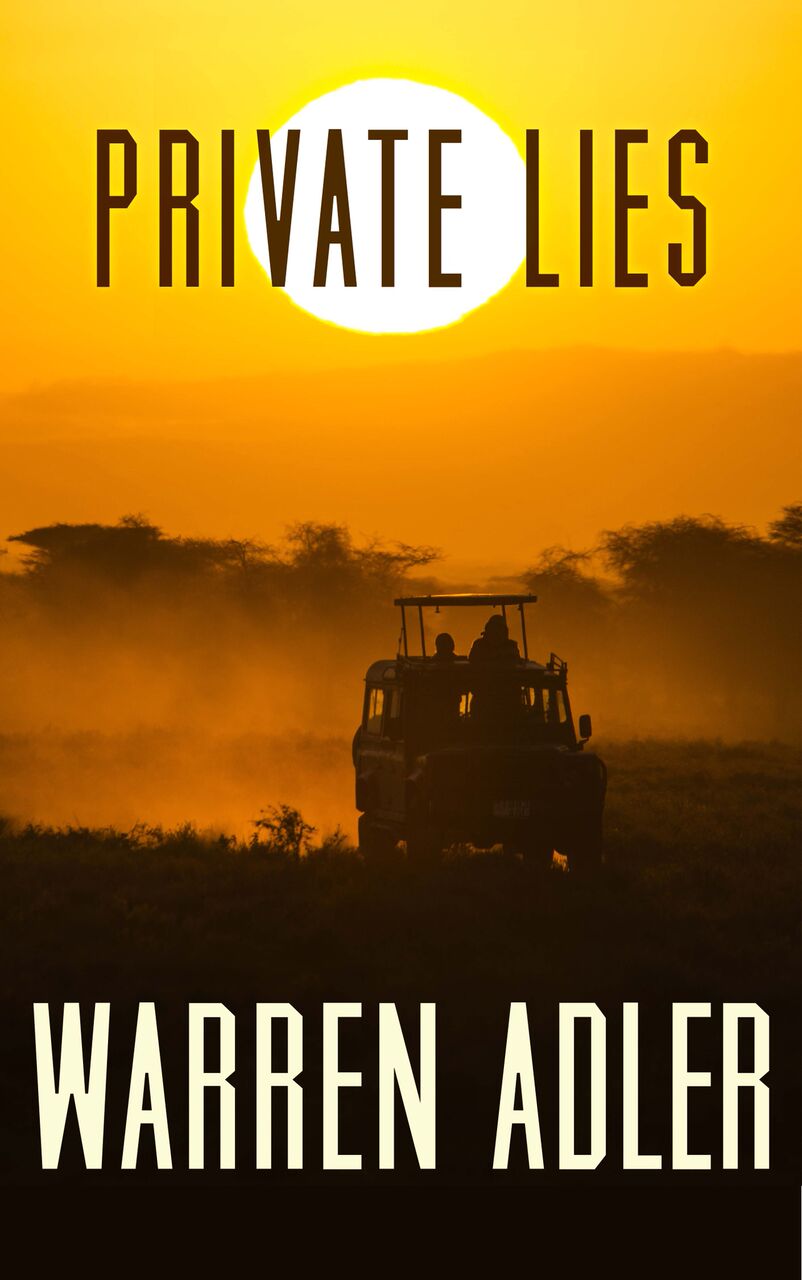 Private Lies
344 pages
The book that fueled an unprecedented bidding war in a Hollywood commission before it was published.
Two couples are caught in an emotional web of adultery and deception that turns deadly on an African safari. 
Ken Kramer, a Manhattan advertising copywriter and his wife Sheila, appear to have a comfortable life and loving marriage. But when Ken is taken along on a business dinner and introduced to the wife of his wife's major client, we discover she is Ken's old flame — in fact, the love of his life and the object of his sexual obsession as a young man. Baffled by her non-recognition, he learns that she has totally reinvented herself and snagged a rich husband who has no knowledge of her real early life. Unbeknownst to Ken, his own wife is carrying on a steamy affair with the client. When the love and sexual obsession between Ken and his old love bursts into flames again, the plot thickens as both couples embark on an African Safari with startling and tragic results.
Critical Acclaim
"Once again Adler (War of the Roses) focuses not on the redemptive power of love but on its capacity for destruction, in this case in the form of all-consuming sexual passion. When Ken Kramer and Carol Stein meet at a dinner arranged by their spouses, it has been 20 years since they ended their incendiary affair. Inexorably, the old erotic flame draws them together, but they are not the same people they once were. She, having failed as a professional ballerina, has married pompous Eliot Butterfield for his money; Eliot had hoped to become the next Hemingway but he's writing advertising copy instead. This is not, however, a story of lost dreams and new chances, for Ken and Carol are not the lone adulterers: antiseptic Maggie Kramer and Carol's formerly stodgy hubby have discovered orgasmic ecstasy in each other. Before the philandering foursome heads off on safari (from which only three will return) of stolen moments among famished crocodiles and stampeding elephants." -- Publishers Weekly
Rights
Rights Available: 
Paperback
eBook
Rights Sold 
US eBook Rights: Rosetta Books
US/Canada Audio: Phoenix Books
Danish eBook Rights: Lindhardt og Ringhof Forlag A/S
Translation(s) Available:
Danish
German
Italian
Polish
Portuguese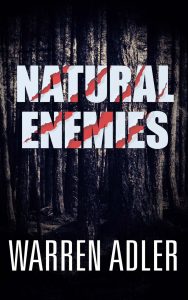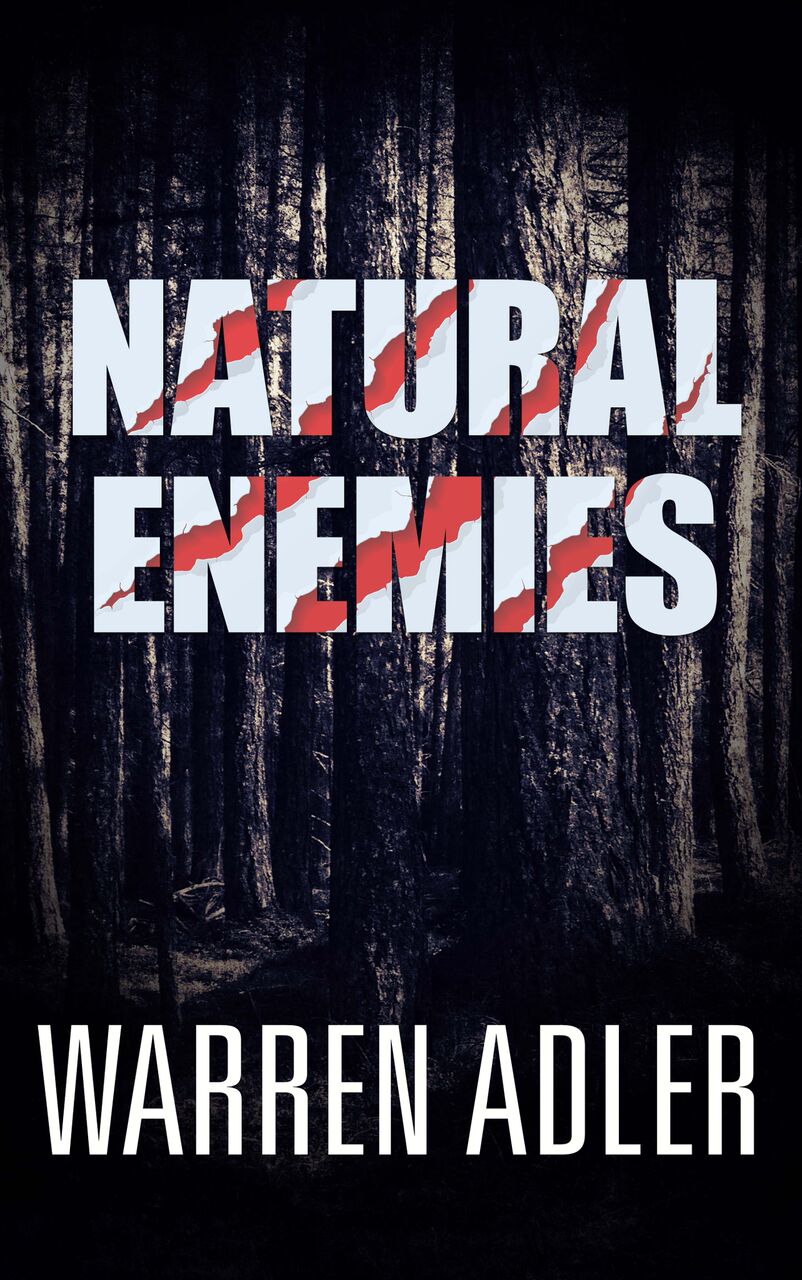 Natural Enemies
250 pages
An unforgiving landscape reorders an urban couple's priorities.
A young New York couple, unable to have children and whose marriage seems to be sputtering, is advised to leave their tense urban lives and take a vacation in a more bucolic environment. Out West, they are suddenly confronted by violent rednecks and chased deep into the surrounding wilderness. Braving floods, avalanches, wild animals and human predators, they come face-to-face with death. This test of endurance and their passion to survive gives them new insights into themselves and their future together. This gripping, fast-moving, and suspenseful novel will hold the reader's interest until the last turn of the page.
Rights
Rights Available:
Paperback
eBook
Rights Sold:
US eBook Rights: Rosetta Books
Danish eBook Rights: Lindhardt og Ringhof Forlag A/S
Translations(s) Available:
Danish