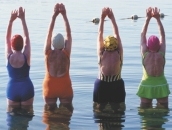 A number of years ago, Larry Russell Brown and I met at the Donna Reed Festival in Denison, Iowa. Larry is a songwriter whose credits include such perennial favorites as "Tie A Yellow Ribbon Round the Ole Oak Tree," "C'mon Marianne," "Knock Three Times," and many others. We were each invited to speak to high school students as part of the festival.
We had time on our hands, since there was little to do once our talks were over, and would sit around discussing our careers and how we saw our future projects. I told him about the eleven stories that Viking had just published titled The Sunset Gang. The president of Viking at the time, Tom Guinzburg, had given the manuscript to his mother to read and he reported that she was so taken with the stories that he just had to publish them.
The fact was that these stories were based upon my own mother's experiences as a resident of Century Village, a huge community created in West Palm Beach for middle class people like my parents. Many of them were people who were either immigrants or had come to America as children as part of the mass migrations in the late nineteenth and early twentieth century from Eastern Europe. They were mostly new residents who had retired to Florida and were bonding together late in life.
After the short story collection was published, Linda Lavin, a superb actress looking for producing projects, was taken with the stories. She had a retired Dad living in Florida and, as a consequence, related to the material. The project was quickly sold to the Public Television Networks and three of the stories were shot on location in Florida. The first of them is titled "Yiddish," but, although there is an ethnic twist to the trilogy, the stories apply to seniors of all ethnicities.
In my conversations with Larry, I told him about this upcoming project and he reacted by suggesting that we take the material and, using our mutual talents, create a musical. We wrote nineteen songs. Larry wrote wonderful music and I wrote the lyrics and the book. The musical, developed in a number of showcase events, was put on by the Jewish Repertory Theater to full houses and ecstatic audiences. It is now making the rounds of producers. Our hope is that it establishes itself as a classic about how the senior years can be creative, fruitful, and filled with excitement and romance.
The three episodes of the acclaimed trilogy of the Sunset Gang are now online. I will be posting them soon for your enjoyment.
This is one of my favorite songs from our musical collaboration: WE ARE THE SUNSET GANG
Warren Adler
Categories: Literature
Tags: Anne Meara, Doris Roberts, Harold Gould, Jerry Stiller, Jewish, musical, PBS, The Sunset Gang, theater, Uta Hagen, Warren Adler