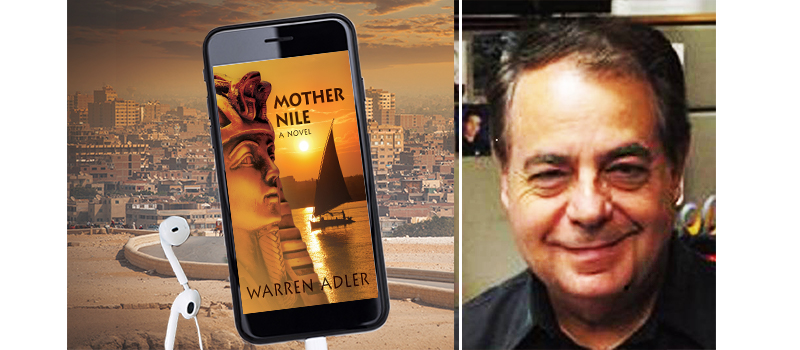 This week we're shining a spotlight on Colin Fluxman, the audiobook narrator of Mother Nile, Warren's Adler's newest historical thriller set in Cairo, Egypt.
What was it like narrating Mother Nile?
A labor of love – there's nothing to beat a well-written novel that captures one's imagination and actually takes you into the story with its characters, intrigues, and plot development. It was hard to stop, but my voice needed to take lunch from time to time!
What inspired you to become an audiobook narrator?
I've been a broadcaster for 40 years and this was a natural extension of what I'd been doing.
There were several foreign words in Mother Nile, what was it like pronouncing them? Did you find yourself looking up those words?
Having been a news reporter and anchor for many years, I am very familiar with foreign words, phrases, names and places, especially African (Egyptian) as I'm originally from South Africa.
How do you prepare for an audiobook?
I prepare chapter by chapter, much the same as I would a news report or any other script. I go over the chapter line by line, notating emphasis, pauses, character, etc. then record the chapter – repeating any lines which need better delivery, flow, and then editing.
How did you prepare for Mother Nile specifically?
I prepared much the same as I do for all other books I narrate, as explained in my previous response, but specifically, getting into the characters' hearts and minds. Also, familiarizing myself with names, places, etc.
Do you work from home or do you go to a professional studio?
I work from home – it allows me to work at my own pace and in my PJs if I so desire!
What kind of book would you consider Mother Nile to be?
Mother Nile is fast-paced, exciting, romantic, and intriguing.
Which character could you relate to the most and why?
Si Kelly– and his quest for answers. His determination to find Isis is very much like my desire to get the job done – nothing to stop me reaching my goal, whatever the challenges – and he had many. I also liked Zakki, believe it or not – a delicious character for a narrator, with his evil strain and relentless pursuit of Isis – they both had the same goal for different reasons.
How did Warren Adler's descriptions of Cairo influence your narration?
Cairo is ancient and mysterious. I have narrated dozens of historical books on the Middle East, so this was a natural extension for me, understanding the history and culture of the region.
Off the top of your head, what powerful concrete details can you remember from the narration?
The scene that I recall was the sudden transformation of Zakki – his evil "burning out," how he resigned himself to his fate, to face his ultimate darkness. It was unexpected – a shock, almost, but the possibility that evil can end.
If you could be present during one scene in the novel, which one would it be?
The final scene where Si thinks his love has been killed, and then discovers she is alive, wounded only, was edge-of-the-seat stuff. I loved it.
How do you choose which projects to do? What about Mother Nile appealed to you?
I choose titles that suit my voice and style – anything from medical books to travel guides, historical, and instructional. My favorite titles are novels – because they have a story to tell, plot development, interwoven with the development of the characters. Many titles are offered to me, as Mother Nile was. It's obviously what the author/publisher has in mind for the title.
Mother Nile was a page-turner for me – I couldn't wait to go from chapter to chapter – seeing how the plot develops, particularly the relationship between Si and Samya.
What do you believe makes for a good audiobook?
The story needs to grab the listener's attention, together with a good vocal interpretation of the author's work. Each needs the other to be successful.
Do you believe audiobooks will one day replace reading? 
For sheer convenience for today's on-the-go person, audiobooks are ideal. I don't think it will replace reading, but I think the days of the traditional bookstore are numbered, with e-reading being so popular and convenient, although many people I've spoken to still like the touch-and-feel of a book.
In your opinion, what makes a good audiobook narrator?
I think one needs to have years of experience as an actor and voice-over professional to be a successful audiobook narrator. Also, well-educated, with a good command of the language. I narrate books on a variety of subjects, from novels, to guide books, to historical books, even online training courses.
Would you compare narrating to acting?
A good narrator is, essentially, a good actor.
What advice would you give to aspiring narrators?
My advice to aspiring narrators would be to use whatever acting experience they have, and actually become the character. How would you react in a similar situation? What would your emotions be? Obviously, a good, clear voice, but very importantly, doing research on the subject matter, the names, places, pronunciation (very important), and imagining yourself as the listener – would you like to listen to your narration?
How often do you listen to audiobooks?  
I have to admit, I simply don't have time to listen to any audiobooks. I narrate two or three books at a time, sometimes late into the night, and just crash exhausted at the end the day.
Do you like narrating a particular genre?  Which are your favorites?
I do enjoy a well-written, suspenseful book with all the elements that Mother Nile has.
If you could narrate a novel you loved, what would it be?
Warren Adler has written some awesome and very successful books – I'd love the opportunity of narrating them!
Listen to Colin read from Warren Adler's Mother Nile here.
https://www.warrenadler.com/wp-content/uploads/2017/01/audiobook-mother-nile-colin-fluxman-2.jpg
350
800
Warren Adler
https://www.warrenadler.com/wp-content/uploads/2019/08/WA-4-logo-lg.gif
Warren Adler
2017-02-03 15:32:34
2017-02-03 16:11:06
Our Exclusive Interview with Colin Fluxman, the audiobook narrator of Mother Nile