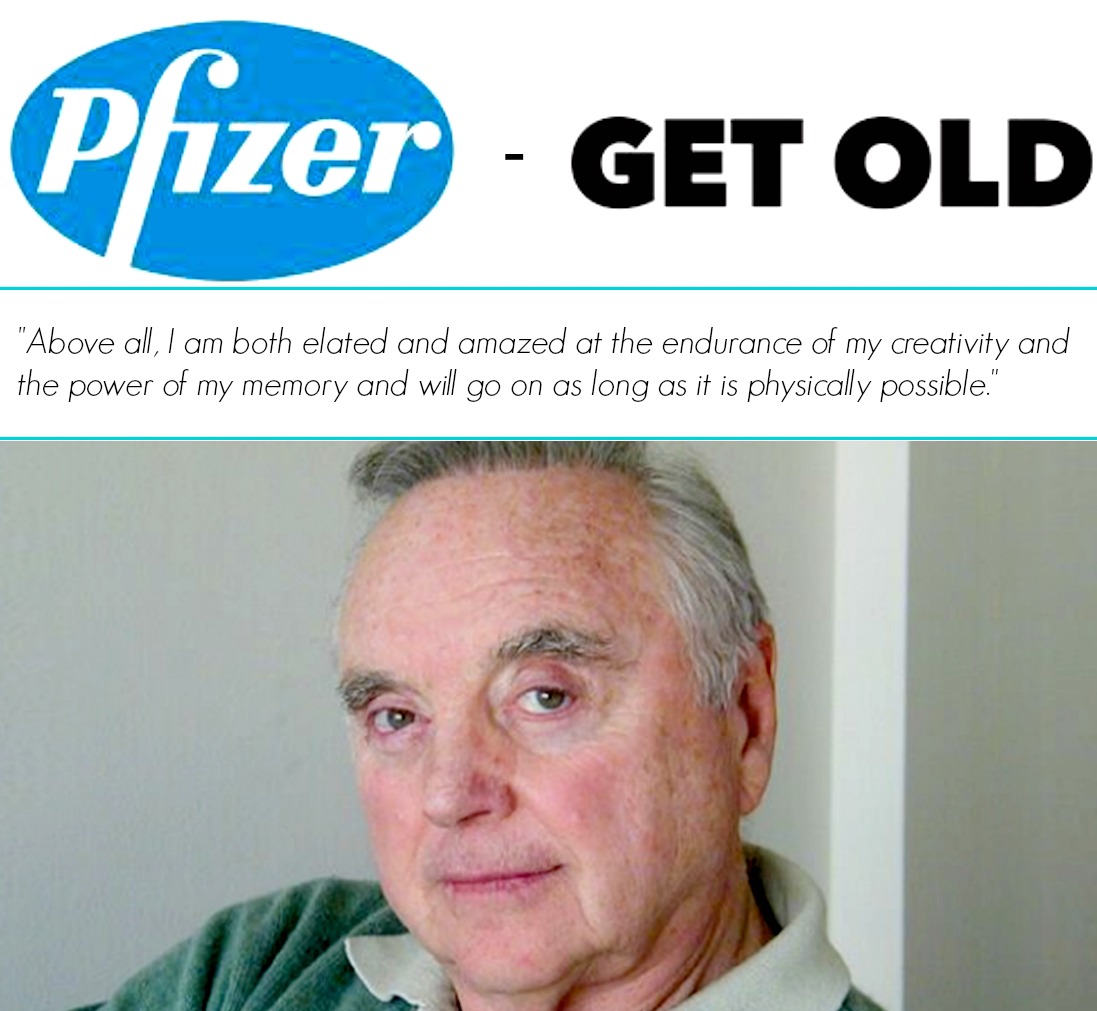 Warren Adler talks ageism and staying in the creative ballgame in an exclusive interview with Pfizer for their popular GET OLD campaign
At 87, the author of more than 50 novels, including the 1981 tumultous divorce classic, The War of the Roses(which he adapted into a screenplay of the same name, and the 1989 film starred Michael Douglas, Kathleen Turner and Danny DeVito) remains a tenacious and relevant part of the creative world, and he's tired of the dismissive look he gets when he shares his age.
"Too often, the elderly are looked at with a jaundiced eye as useless, like products whose shelf life is finished and by virtue of our age shunted off as people with nothing to offer," says Adler. "We need to change the perception and revere the active and mentally competent old as contributors to the common good by virtue of their observations and insight acquired during a long residence on our planet."
Today, Adler is as active in writing as he's ever been. His next novel, Torture Man, comes out in November (and is also being adapted as a film), and his blog is testament to his prolific spirit. A number of his works are also being adapted for film and television, including The War of the Roses: The Children, the sequel to The War of the Roses; "Capitol Crimes," a TV series based on the author's Fiona Fitzgerald mystery novels; and a feature filmed based on Target Churchill, a World War II thriller by Adler and James Humes.
We talked to Adler about the joys and challenges of getting older, and what it takes to remain a powerful player in the creative game.
Get Old (GO): You mention that you consider lying about your age because, at 87, our cultural attitude relegates you to a category of irrelevancy. What would you like to say to people who feel that way?  
 Warren Adler (WA): Eventually, if they are lucky, they will arrive at my age with all their faculties. There are 6 million people over 85 in the US, close to half will have cognitive problems. Thus, three million odd of us represent vast experience and above all, wisdom.
We survivors must persuade younger people that our wisdom and experience is to be treasured not rejected. We should be consulted, sought out, listened to.
We have been there, done that, and seen that. We are a living, breathing source of historical truth and our experience and wisdom should be used by the young as a source to help navigate the shoals to be met on life's journey, most of which have a tendency to repeat and, in some cases, multiply.
 GO: You have 50-plus published novels, along with plays, poems and essays, and more than a hundred short stories. In what ways has growing older influenced your creative process and your writing style?
WA: Above all, it has made me appreciate time and the manner of its expenditure.
I have always been time bound, understanding its precious value and limitations. At the same time, I understand that certain things actually improve with time—fine wine, for example—and believe from my own experience that brain cells might have a tendency to rejuvenate by some mysterious process not yet discovered. Our brains are not like socks. One size does not fit all.
There are moments in my work when I actually feel like I am living in an aging cask and getting a better and deeper understanding of my calling as a writer. As I grow older, I find I look at my writing with more of a sense of its artistry and mission than I might have in my younger self.
I now truly believe that my work is more important than I ever realized and I create my stories, characters and plots with that in mind. I am also aware that I may be chasing rainbows, and, I confess, I enjoy the fantasy of writing to keep my authorial name alive as long as possible.
Above all, I am both elated and amazed at the endurance of my creativity and the power of my memory and will go on as long as it is physically possible. I make every effort through exercise and diet to slow up the inevitable deterioration of my body, which might be postponed but never avoided.
As a writer of stories, I do appreciate the meaning of a beginning, middle and an end and I know that every plot leads, as in life, to a denouement. Essentially, living is a story and we are all deeply concerned and consumed with "what happens next." The business of living is strewn with cliffhangers and suspense. Stories are the way that the creative artist explores this phenomenon and engages a reading audience with infinite possibilities, insights and outcomes…
 Read the Entire Interview here 
https://www.warrenadler.com/wp-content/uploads/2015/12/new-1-.jpg
1011
1097
Warren Adler
https://www.warrenadler.com/wp-content/uploads/2019/08/WA-4-logo-lg.gif
Warren Adler
2015-12-08 11:25:35
2015-12-08 11:25:35
Exclusive Pfizer Interview with Warren Adler: "The War of the Roses Author Declares War on Ageism"