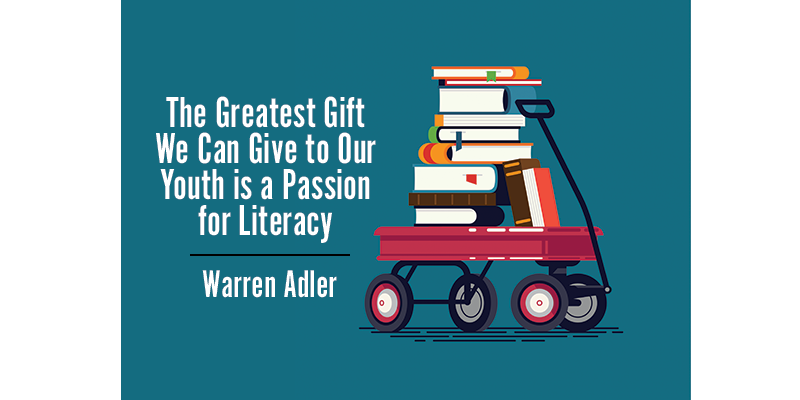 It is my belief that literacy provides our youth with the soul of education and allows them to attain a deeper understanding of what makes us human; the joys, perils, and insights of our experience. I applaud and celebrate those who understand the importance of instilling a passion for literacy in our young people and I am a firm believer that it can start with just a single spark.
Looking back to my childhood, which took place in Brooklyn in the 1920s, the memory of my mother's reading habits takes root. When she finished her chores for the day and I returned home from school she would be sitting and reading, waiting to serve the evening meal. She was a prodigious novel reader and I watched her read day after day, getting her books out of storefront lending libraries for what I think was ten cents a day.
It has taken many years to discover this as the seed that grew my own obsession to read and write, but that image of my mother living in a parallel world of fictional characters has stuck with me throughout my entire life. It is almost as if I am writing my stories and novels for her, and I think that is my biggest tribute to her.
As a very young child, before I was able to read on my own, my parents read to me from storybooks. My parents' gift to me one holiday when I was six years old meant more to me than they could know and it was absolutely essential to my grounding in literature. They bought me a set of MY BOOKHOUSE by Olive Beaupré Miller, which was six volumes of stories and rhymes chosen from international literature for children. The offerings in these wonderful books began with nursery rhymes and progressed to material for children as they grew.
I loved those books. I reread them over and over again. They were gorgeously illustrated and I never grew tired of reading them. It was like crossing a moat from the reality of a world of struggle and strife, to a paradise of storytelling, which opened infinite possibilities and aspirations in a young boy confronting a strange and scary future.
When I had my own children, the set had been moved so many times that I had unfortunately lost track of it. But one day when my oldest child was about five, I found them in the book section of Marshall Field's in Chicago during a business trip. Honestly, I had the feeling that I had struck gold and the discovery brought a rush of memory and stirred deep emotion and heartfelt tears. Of course, I immediately had a set shipped home for my children.
Literacy is a prize to be savored and a path to insight and wisdom. Lack of literacy is a creeping danger and neglecting the teaching of literacy to children through indifference, impoverishment and neglect is a travesty that can condemn them to a life of ignorance and enslavement. To truly appreciate the power of literacy is to understand its ability to empower, to get to the heart and soul of human intercourse.
My own love affair with reading inspired my dream to become a novelist by the time I was 15. After high school, I went to New York University and pursued a degree in English Literature, where I was introduced to the roster of great American novelists, becoming bewitched by the works of Hemingway, Faulkner, and Fitzgerald. My freshman English professor, Dr. Don Wolfe, inspired me, and I later went on to study creative writing with him at the New School, along with Mario Puzo and William Styron.
As a writer of the imagination and a reader of works of the imagination, I believe reading and writing have given me the necessary insight, understanding, and greater comprehension of the human condition on all levels. It has taken me out of the living moment into the mind and motivation of others, both past and present, and showed me a path to empathy and potential wisdom.
No matter who it is that first sparks that flame, dedication to instilling the values and wisdom that come to us through literacy is sublime, offering a lifetime treasure trove for the soul, the most valuable gift that someone can provide a young person as he/she navigates life.

https://www.warrenadler.com/wp-content/uploads/2018/01/literacy.png
400
800
Warren Adler
https://www.warrenadler.com/wp-content/uploads/2019/08/WA-4-logo-lg.gif
Warren Adler
2018-01-26 12:25:55
2018-01-26 12:48:12
The Greatest Gift We Can Give to Our Youth is a Passion For Literacy