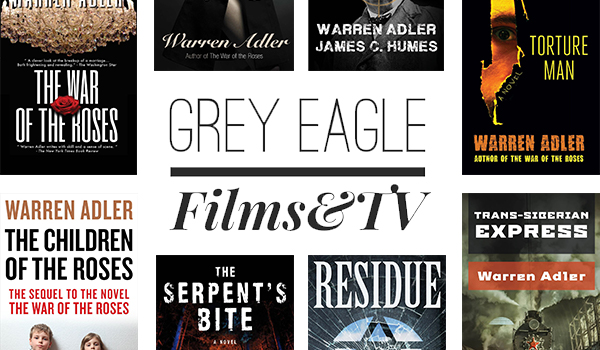 For information on how you can participate in our fundraising, contact Jonathan R. Adler, CEO here | Phone: 301-252-0069
Grey Eagle Films is seeking equity for production of up to 4 film projects adapted from the acclaimed, bestselling author Warren Adler, well-known for the enduring classic turned Blockbuster hit "The War of the Roses," which has been a phenomenon as a novel, movie and worldwide play for almost forty years.
Grey Eagle Films has exclusive rights to all 53 Adler novels and 100 plus short stories with eleven projects currently in development: seven films and four television series. Our plan is to begin producing up to four "lower budget" independent films utilizing funds from this Grey Eagle Films production raise with emphasis on an eventual pivot to "TV", if the opportunity for a successful digital partnership arises.
Led by an established worldwide brand and streaming platform opportunities, we are able to greatly reduce risk with a diverse slate of projects while still swinging for the fences.
We believe that our unique stories will open up new areas of opportunity in the content-starved, worldwide entertainment business. Our research has shown that unsuccessful film production raises are loaded with overhead, frivolous expenditures and unsustainable promises, but our Grey Eagle Production raise has no corporate fixed salaries or overhead and no wasteful expenses.
Lastly, Grey Eagle Production Fund Investors will have an opportunity to experience the filmmaking process firsthand, whether it's attending a glamorous opening and/or film festival/market events, visiting production sets, meeting cast members, talking with our team about our marketing strategy or just bragging rights.
You can explore our projects below.
Watch Warren Adler's official #WriteOn campaign video here: https://youtu.be/jzNSXYEiepM
The Children of the Roses
"This much should surely be said about The War of the Roses: it promises to take the gloves off, and it delivers." –The New York Times Film Review
"The War of the Roses becomes a deliriously mean-spirited free-for-all in which nothing – not the pets, not the shoes, not the cars and certainly not the principals themselves – is sacred." –The New York Times Film Review
The hilarious and disturbing sequel to the original blockbuster hit and iconic tale about the perils of marriage, divorce and the destructive power of materialism, The War of the Roses. The Children of the Roses is a wickedly dark satire targeting a world of entitlement, over-zealous parents, adults clinging to their youth and the continued effect of divorce on children and their children. It asks the question: are the children of the Roses doomed to repeat the chandelier-shattering legacy of their parents?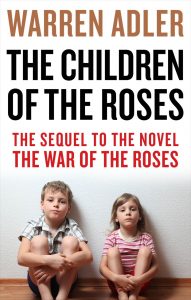 Screenwriters Attached:
— Doug Simon & Will Canon
Creative Producer-Head of Production Attached:
Box Office Comparatives:
The War of the Roses; Young Adult; The Breakup; Fargo
Media Pickup:
The War of the Roses Sequel in the Works — FILM PULSE
Chandeliers Will Fall! War of the Roses Sequel in the Works! — MOVIE HOLE
War of the Roses Getting a Sequel That will Center on the Children — CINEMA BLEND
Sequel to 1989's War of the Roses Is in the Works — SPLIT SIDER
Warren Adler Releases The War of the Roses: The Children — BROADWAY WORLD
There's a Sequel to The War of the Roses in the Works — AV CLUB
New War of the Roses Pic Flowering — DEADLINE
Residue
When a young lawyer, Ben Silverberg, takes on the case of a firebombing at a black church in Brooklyn, the church pastor reveals to Ben an inexplicable discovery. In a walled-off area below the basement and exposed by the fire sit three massive trunks filled with gold and precious jewels. Where did they come from and why have they been buried all these years? The bizarre journey of this treasure unearths long hidden dangerous secrets, international intrigue and shocking violence that ignite a hornet's nest of racial and ethnic conflict.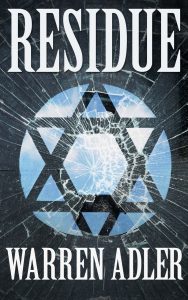 Writer/Director Attached:
Box Office Comparatives:
Woman in Gold; Marathon Man; The Debt; Before the Devil Knows You're Dead
Media Pickup:
Vondie Curtis-Hall Directing Thriller Residue — VARIETY
Vondie Curtis-Hall Signs Up to Adapt and Direct Residue — INDIEWIRE
The Serpent's Bite
In an attempt to reconnect with his two alienated adult children, George Temple replicates the memorable horse trek through the forbidding Yellowstone wilderness they had enjoyed twenty years earlier. As they are led by a drunken guide and a venal horse wrangler over potentially lethal terrain, their bonding experience quickly disintegrates. Nostalgia is corrupted into a nightmare of lust, betrayal, and entrapment as the children's disturbing motives are revealed and dark family secrets are exposed.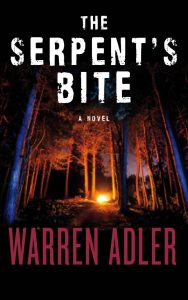 Director Attached: 
Co-producer and Star:
Box Office Comparatives:
The Edge; Deliverance; The River Wild
Media Pickup:
Pitch Perfect Star Anna Camp Boards Drama The Serpent's Bite — VARIETY
Anna Camp Thriller The Serpent's Bite to be Written by Alex Alemanni — VARIETY
Pitch Perfect 2 Star Anna Camp to Co-Produce and Star in Film Adaption of The Serpent's Bite Based on the Novel by Bestselling The War of the Roses Author Warren Adler — MARKET WATCH
Torture Man
The young daughter of prominent anti-war and anti-torture activist, Sarah Raab, is kidnapped and held for ransom by Jihadi terrorists. Ordered not to contact the police, she enlists the help of a mysterious and seemingly retired CIA operative. A man who stands against everything she deeply believes in. How far will she go against her own convictions when things get personal?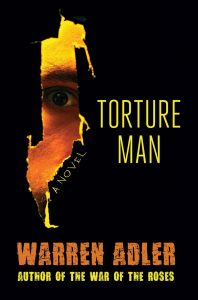 Screenwriter/Producer Attached:
Director Attached:
Box Office Comparatives:
Zero Dark Thirty; Traitor; Rendition; A Mighty Heart 
Media Pickup:
Blacklist Screenwriter Hernany Perla to Adapt Warren Adler's Forthcoming Fall 2015 Novel Torture Man — DIGITAL JOURNAL
Warren Adler's Thriller Torture Man in the Works as a Movie — VARIETY
Mourning Glory
"Warren Adler delivers a dark, delectable look at lust, greed, betrayal and redemption. Never have the seven deadly sins been such fun." -Author Judith Kelman
The almost-true story of a fierce single mother, artist, and life survivor, whose no-edit-button style of honesty keeps her humble but unfortunately unemployed as she goes down a rabbit hole of wildly flawed decisions until everything falls apart. In her well-intentioned desire to give her daughter a better life, she latches onto a bizarre scheme to snare a rich widower by crashing funerals. But can fulfillment truly be discovered with a little black dress? Can redemption finally be found by looking within?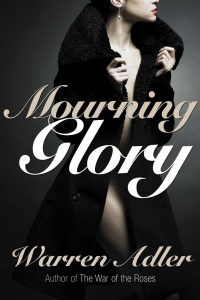 Writer/Director Attached:
Creative Producer-Head of Production Attached:
Box Office Comparatives:
Crazy, Stupid, Love; Trainwreck; In a World…; Enough Said
Media Pickup:
Dark Comedy Novel Mourning Glory in the Works as Movie — VARIETY
Dark Comedy Novel Mourning Glory in the Works as Movie — WORLD NEWS
Dark Comedy Novel Mourning Glory in the Works as a Movie — BOSTON HERALD
https://www.warrenadler.com/wp-content/uploads/2017/09/img-0.jpg
350
600
Warren Adler
https://www.warrenadler.com/wp-content/uploads/2019/08/WA-4-logo-lg.gif
Warren Adler
2017-09-28 06:00:09
2017-09-28 14:00:40
Grey Eagle Films Officially Launches Production Raise Fund