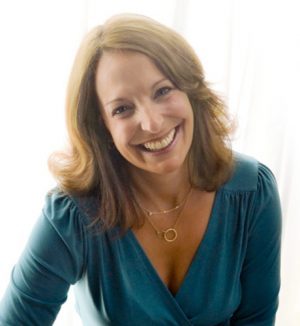 Since the time I was very young I wanted to be a writer. I would write poems and stories and even sent off the first five chapters of a novel to a Big Five New York City publishing house when I was ten years old. That was my first badge as a writer – a rejection letter in fifth grade!
Recently, I found a drawing I did at eight years old under the heading: "What I want to be when I grow up." The image was of me writing with a disproportionately huge pencil at a clear desk (unlike my own now) with a plant on it (I always have fresh flowers in my office). I've been a lifelong reader and have loved writing from the earliest of my memories. I always wrote, even when I wasn't writing for publication or for others, I was writing for myself. Writing a novel was close to my heart but I wasn't doing it. I was working in NY, raising three children, volunteering, other things were taking precedence. Finally, in my early 40s, I asked myself what I was waiting for, I knew it would be something I would regret not doing and I jumped into action.
The day I finished my first draft was monumental – I had written a novel! Of course, first drafts are crap and the book is dramatically different from those pages, but it was such a victory, such an accomplishment. My prior two nonfiction books didn't feel the same, having written a novel represented the realization of a dream to me. To be a debut novelist at 47 is kick-ass and I'm loving writing my second novel while promoting Forks, Knives, and Spoons. I'm living the life I imagined in my childhood.
https://www.warrenadler.com/wp-content/uploads/2017/05/leah-decesare-e1494439687451.jpg
326
300
Warren Adler
https://www.warrenadler.com/wp-content/uploads/2019/08/WA-4-logo-lg.gif
Warren Adler
2017-08-30 08:00:24
2017-05-10 14:20:42
Leah DeCesare