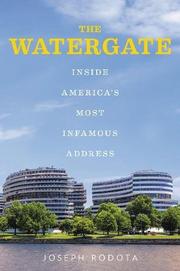 To many, mentioning the word "Watergate" recalls a four-decade-old historical event that caused the downfall of the 37th American President, Richard Nixon. Hundreds, perhaps thousands of books have been written cataloging, commenting and analyzing this astounding hiccup in American national life.
To others, especially those in the Washington area, it is an apartment, hotel and office complex on the shores of the Potomac River of unusual design a stone's throw from the Kennedy Center, minutes from the White House and State Department which has been and continues to be the residence of some of the most powerful and celebrated figures in American political life.
To Joseph Rodota, who has penned the book The Watergate with the apt subtitle "Inside America's Most Infamous Address," it is a quintessential rendition of how a complicated, creative and convoluted international real estate deal on a Washington mudflat became a permanent monument to American political chicanery.
Based on painstaking and remarkable research, Rodota, a political careerist turned author who worked in the Reagan White House and a top aide to former California Governor Pete Wilson delves deeply and eloquently into the exciting and wild shenanigans that involved a powerful Italian Development company with ties to the Vatican, an uncompromising and brilliant Italian architect, a covey of Washington developers and assisting architects and an assortment of  political operatives, international bankers and colorful real estate tycoons in a birthing drama that makes Donald Trump's The Art of the Deal look like child's play.
In the interest of full and honest disclosure, I must confess that Rodota's fascinating rendition vividly recalls my own small part in this imbroglio which I hope will not distract from my sincere and enthusiastic commendation for his work.
I named this once muddy swamp Watergate. No irony intended but somewhat apt in today's corrosive environment.
Actually, it was suggested from the name of a restaurant that occupied an adjacent property at one time and seemed wonderfully appropriate. Apparently, the powers that be agreed.
That was part of my job in my salad days as the founder and chief operational officer of Warren Adler, Ltd., an advertising and PR agency that I ran in the nation's capital that, in addition to political accounts for both parties, specialized in creating branding advertising and community imagery for scores of housing communities throughout the Washington metro area.
My firm would name a community, prepare material to embellish that name and promote and advertise that community to the public. My tenure in this role did not last beyond the first Watergate building, constructed by my clients, but I did know and work with many of the players involved in the initial sales effort.
Because of its strategic location and its spectacular curving architectural white facade created by an Italian architect, which prompted a wag's tongue-in-cheek description of it as "Spaghetti on the Potomac," I was well aware in advance of construction that this one-of-a-kind complex because of its location and high profile would house some of Washington's most significant movers, shakers, hanger-oners and hustlers.
Among them to name a few were Anna Chennault, Bob and Elizabeth Dole who lived next door to Monica Lewinsky and her mother, Ruth Bader Ginsburg, a gaggle of famous Senators, Congressman, government officials, international diplomats, assorted lobbyists, influence peddlers, and the various socialites and friends of Presidents who bought into the Watergate complex to be part of the influential social hustle both on and especially behind the scenes of the Washington merry go round.
Of course, no one could have predicted how the break-in attempt at the Democratic National Committee offices in the Watergate would enshrine this development as ground zero of one of the most cataclysmic events that has ever "shivered the timbers" of our ship of state.
Many people involved in that turbulent era may no longer be alive, but the event still lingers in the public consciousness although most people haven't a clue as to what really happened or why except that it made lasting legends out of all the principal players and lingers in memory as a rallying cry for freedom of the press and a cautionary tale for corrupt politicians collectively identified under the umbrella of a single name: "Watergate."
What Joseph Rodota has done is give life to this inanimate configuration of apartments, offices and a hotel complex as if he was probing the inner life of a living colorful and controversial celebrity which has morphed into an enduring historical symbol of bizarre events.

https://www.warrenadler.com/wp-content/uploads/2018/02/the-watergate.jpg
315
800
Warren Adler
https://www.warrenadler.com/wp-content/uploads/2019/08/WA-4-logo-lg.gif
Warren Adler
2018-02-20 08:00:48
2018-02-20 14:20:12
The Watergate by Joseph Rodota: A Book Review from Warren Adler