I. Now Almost 90, 'War of the Roses' Author Has Some Advice For Seniors, And It's Not About Divorce
(This is part one of a two-part series on Warren Adler, his attitudes toward ageism and of the importance of never allowing oneself to lose the creative impulse in the face of aging or rejection.)
Like the tale he so hilariously and sensationally told of divorce through The War of the Roses, author Warren Adler has another story to tell nearly four decades later. He wants people–particularly seniors–to know that older adults are relevant, and as for him, his best work could still be yet to come. After all, the acclaimed author didn't publish his first novel till he was 46.
Now 89 and the author of more than 50 novels, including the 1981 tumultuous divorce classic, The War of the Roses (which he adapted into a screenplay of the same name, and the 1989 film that starred Michael Douglas, Kathleen Turner and Danny DeVito), as well as "The Sunset Gang," his short story series about aging in America, Adler said he isn't finished yet, and neither should you be.
"I've written more than fifty works of fiction. If I am pressed for judgment of worth, I would say that my best work was done since I was 46 years old, which was the year in which my first novel was published," he said. "As we know, wine gets better the longer it stays in the cask."
Adler said older adults have just as much to offer as young people, and both suffer equally from an inability to predict the future. In a perfect world, though, the generations would realize their benefits to one another. "Young people are still too young to know what they don't know and older people have learned by a lifetime of experience what they do know. One would think that each has a value, especially in the workplace," he said. "Of course the wild card for both is that neither the old or the young know what is ahead of us because of the astonishing rise of technology and rapid proliferation of knowledge about the planet, the universe and the human species. My guess is that artificial intelligence and genetic engineering will create a future that can barely be imagined. The fact is that when it comes to technology, young people, perhaps unintentionally, make us oldies feel stupid for our lack of computer expertise, which they take for granted. On that score they're right, but when it comes to life, to human relationships, to the great moral and philosophical questions that we old folk have learned by living through the cataclysmic events of our lifetime, young people might have to lean on us elders to find the best path ahead for what comes next, which, by the way, doesn't tend one toward optimism."
A writer who has built his reputation in the publishing industry as the ebook pioneer who ditched traditional publishing to go independent, Adler is passionate and vocal about the topic of aging and telling the story of older people who are more often than not forgotten about in the mainstream. Adler has written motivational pieces about his attitudes toward ageism and of the importance of never allowing oneself to lose the creative impulse in the face of aging or rejection. He's written for PBS Next Avenue, Changingaging.org and has been interviewed by Pfizer for the company's "Get Old" campaign.
War of the Roses—loosely referring in name to the 30-year period of sporadic warfare and political intrigue between the Houses of York and Lancaster, who both laid claim to the English throne—was Adler's fictional tale of the turbulent and uproarious end of a 17-year marriage between Barbara (Kathleen Turner) and Oliver Rose (Michael Douglas). In the story, the two leave much of the house and their lives in shambles while lawyer Gavin D'Amato (Danny DeVito) tries his best to stem the bloodshed.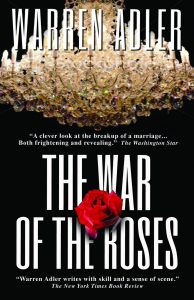 Adler's message today is that he and his senior counterparts do not belong "on the rubbish heap of irrelevance." Rather, older adults need to be revered and their lifetimes of knowledge tapped into for guidance.
"Too often, the elderly are looked at with a jaundiced eye as useless, like products whose shelf life is finished and by virtue of our age shunted off as people with nothing to offer," Adler said in an interview with Kate Silver for her article for Pfizer's "Get Old" campaign titled "The War of the Roses Author Declares War on Ageism."
"We need to change the perception and revere the active and mentally competent old as contributors to the common good by virtue of their observations and insight acquired during a long residence on our planet."
He has a message for young people as well. "Eventually, if they are lucky, [young people] will arrive at my age with all their faculties," he told Silver. "There are 6 million people over 85 in the US, close to half will have cognitive problems. Thus, three million odd of us represent vast experience and above all, wisdom. We survivors must persuade younger people that our wisdom and experience is to be treasured not rejected. We should be consulted, sought out, listened to. We have been there, done that, and seen that. We are a living, breathing source of historical truth and our experience and wisdom should be used by the young as a source to help navigate the shoals to be met on life's journey, most of which have a tendency to repeat and, in some cases, multiply."
Approaching his ninth decade, Adler's works are also being adapted for film and television, including The Children of the Roses, the sequel to The War of the Roses; Capitol Crimes, a TV series based on the author's Fiona Fitzgerald mystery novels; and a feature filmed based on Target Churchill, a World War II thriller by Adler and James Humes. They are all being developed by Grey Eagle Films, an independent film production company exclusively developing and producing Adler's works into feature films, plays and television productions. Grey Eagle Films is headed up by Adler's son, Jonathan Adler. Another son, Michael Adler, an actor, is the creative vice president of the film company. His latest novel, Mother Nile came out last year.
Born in Brooklyn, New York on December 16, 1927, Warren Adler is a product of the New York public school system. He graduated from PS91, Brooklyn Technical High School, and then New York University, where he majored in English literature. He said he was inspired by his freshman English Professor Don Wolfe. He later studied under Wolfe and Dr. Charles Glicksberg at the New School in New York. Among his classmates, were now-famous novelists Mario Puzo and William Styron. Warren was the recipient of the "Alumni of the Year" award at NYU's College of Arts and Science in 2009. He worked for the New York Daily News, served as editor of the Queens Post on Long Island, and his column "Pepper on the Side" was at one time a staple at a number of newspapers around the country.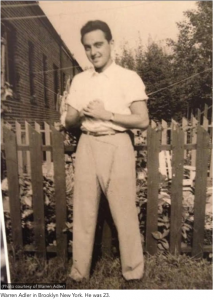 Warren served in the US Army in the Pentagon as the only Washington Correspondent for Armed Forces Press Service during the Korean War, where his bylined stories went out weekly to all publications produced by the Army, Navy, Air Force and Marines. He has owned four radio stations and a television station and founded and ran his own advertising and public relations agency in Washington, D.C. His firm, Warren Adler Ltd,. was responsible for advertising and public relations campaigns for political candidates. He was a consultant to then vice president under Dwight D. Eisenhower, Richard Nixon's campaign in 1968 and he subsequently served as an advisor to the first Nixon administration.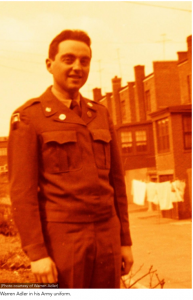 Warren closed his agency in 1974 after the publication of his first novel, Undertow, and has since been devoted to writing novels, short stories and plays. Along with his fifty published novels, plays, poems and essays, he has published more than a hundred short stories. Following the adaptation of "War of the Roses," Warren became the fountainhead of Hollywood screenplay adaptations, fueling an unprecedented bidding war in a Hollywood commission for his unpublished book 'Private Lies.' According to Adler's website, "Tri-State Pictures outbid Warner Bros and Columbia and purchased the film rights to Private Lies for $1.2 million, the highest sums yet paid then in Hollywood for an unpublished manuscript." His classic romance novel Random Hearts inspired the Hollywood film of the same name starring Harrison Ford and Kristin Scott Thomas.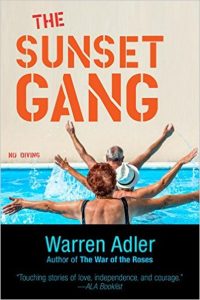 Warren's book of short stories about a retirement community, The Sunset Gang, was produced by Linda Lavin for PBS' American Playhouse series and adapted into a trilogy starring Uta Hagen, Harold Gould, Dori Brenner and Jerry Stiller. The trilogy garnered Doris Roberts an Emmy nomination for "Best Supporting Actress in a Mini-Series." The musical version of The Sunset Gang received an Off-Broadway production with music scored by composer L. Russell Brown and book by Warren Adler.
Warren's themes often times stress intimate human relationships—the mysterious nature of love and attraction, the fragile relationships between husbands and wives, and parents and children, the corrupting power of money, the aging process, and how families cling together when challenged by the outside world.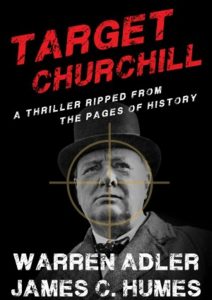 Warren's works have been translated into 25 languages. The essayist, short-story writer, poet and playwright still regularly blogs for The Huffington Post, and lectures on creative writing, motion picture adaptation and the future of e-books. He has taught novel writing seminars at NYU and is the sponsor of the "Warren Adler Visiting Writer" series at NYU's "Creative Writing Program." From 2005 to 2012, he sponsored the first online short story contest awarding cash prizes to winning submissions from emerging writers all over the world. He is the founder of the Jackson Hole Writer's Conference and has been chairman of the board of trustees of the Jackson Hole Public Library.
WarrenAdler.com refers to Warren as a pioneer in electronic publishing, stating that he introduced the first viable digital reader manufactured by Sony in 2007. After being published by Viking, Putnam, Crown, William Morrow and Warner Books, Warren re-acquired his complete backlist and converted his entire library to digital publishing formats, published now under his own company, Stonehouse Productions, the site says.
Warren recently launched "Writers of the World," a campaign featuring aspiring and established writers. He has been featured in The New York Times, Entrepreneur, Publishers Weekly and Pfizer and is a regular contributor to Lit Hub, Huffington Post and The Daily Beast. With nearly half a million fans on Facebook, Warren regularly shares advice to aspiring writers.
When asked when he planned to retire, Warren had this to say: "Retirement from what to what? When my self-awareness tells me I cannot fulfill my aspirations, I will quit cold turkey. Then what? I haven't a clue, but I do think about it. My principal worry is becoming a burden to my children. That said, seeking comfort, friendship, diversion, pleasure, and entertainment is a good tonic for the waning years especially in the company of one's contemporaries."
On ageism and the importance of never allowing oneself to let age stop them, Warren said not to worry. Your mind and body will let you know when it's had enough. "Dealing with age is primarily a function of self-awareness and confronting the reality of your aspirations. The mind, that mysterious machine powered by the organ of the brain, runs the human machinery. It assesses and conveys the reality of your capabilities as your physical and mental mechanisms get to the end of their life cycle. Ignore the statistics. Everyone is different. The timetables of life run on different schedules. As you age, your mind will tell you whether it's time to hang up your cleats or soldier on in pursuit of your aspirations. As a lifelong creative artist, a teller of tales, my mind tells me I am still on the field of dreams. My mind tells me that not only is my memory intact, it's still working at full bore to reach expansive recall. Frankly I am astonished by its durability and, at times, its recurring revelations."
He said that particular fact can be a blessing and a curse. "Oddly, long-term memory is an extraordinary gift, but it comes with a heavy price. You can recycle your life in your mind, but it can trigger the brutal pain of lost moments, the absent people and places of your past. You recycle interactions, relive moments with your parents, your grandparents, siblings, cousins, friends, sweethearts, places, feelings, joys, sorrows, all the yesterdays, great and small that have passed. It is undeniably a gift but it does leave one teetering on the edge of nostalgia with a snootful of tears of longing for the clock to cycle back, start again, perhaps with some corrective reassembling. It is indeed a heavy price to be paid, but worth every cent."
"On the physical side, my assessment is less complicated. Sensory perceptions need enhancement, flexibility is waning, bodily functions are slower, recovery from illness longer. Your doctor evolves from professional to friend, your appetite lessens, your relationship with food changes. Fear of falling makes you too cautious. Fantasies endure, especially those of a sexual nature although fulfillment becomes more of a challenge," he said "In the end, your mind will tell you when the ballgame is over. Mine has not told me that, not yet. It will."
Warren leaves his contemporaries with a bit of advice and stresses that it is up to each of you whether or not to take it. "If you have a dream, take the risk and pursue it. Above all, force yourself to be self-aware. Tell yourself the truth about yourself and understand that you live in a limited time frame. And above all, be wary of following any advice, including from me."
Read Part Two here.
This article was originally published on Forbes here.
https://www.warrenadler.com/wp-content/uploads/2017/05/2.jpg
500
800
Warren Adler
https://www.warrenadler.com/wp-content/uploads/2019/08/WA-4-logo-lg.gif
Warren Adler
2017-05-25 15:09:57
2017-05-25 15:57:50
New Exclusive FORBES Two-Part Series on Warren Adler (Part I)